Handing Out Hardware: Nickels 4 Dimes-style
The regular season has ended, so as a blogger, I'm obliged to give you my opinion who wins what. But let's be honest here, a lot of the awards are set in stone, so I'm going to create some other categories just to make it a tad more interesting.
MVP: LeBron James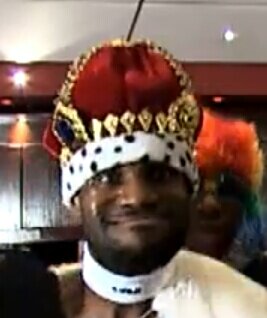 That's your MVP right there people!
With one title on his resumé, the hate has cooled down. Lebron finds himself playing loose with the highest expectations coming from himself. He has exceeded the biggest hype ever brought upon a high school athlete and he looks like a good time to hang out with. He doesn't need the trashtalk of a Kevin Garnett, he doesn't need to be superserious all the time like Kobe Bryant, he doesn't need to be a super asshole like Michael Jordan. He just plays the game how it's supposed to be played. If you just look at his on court performances, he's unhateable. If you look at his improvements every season, it's a safe thing to say he's one of the hardest workers the game has ever seen.
Lebron won every player of the month award of the year, except in April. Why? Because he dominated the league so hard, he didn't even had to play in April. Say thanks Carmelo. It'll be interesting if Lebron will continue his amazing year-by-year improvements next year. Because Lebron is so out of this world, I'll only be pleased if he hits averages of 28 ppg, 8 apg, 8rpg, 1blk, 2 stls on 59FG%, 40 3FG% and 85 FT% and the Heat break 70 wins. The only question that remains is if Lebron could win this award unanimously?
My dad's answer when asked who's the MVP this year: "Are you stupid?"
As an ode to Lebron's MVP Season, I got a surprise at the end of the article!
Rookie of the Year: Damian Lillard
No doubt about this choice! Sadly, the Portland Trail Blazers are out West. I'd love to see a fearless player like Lillard go all out in the Play-Offs. Like the MVP, this award could be unanymous. Lillard had some spectacular games in his rookie campaign. With the addition of Eric Maynor, Lillard played some more minutes at the off guard position. It'll be fun watching how Maynor & Lillard continue to improve their chemistry next season.
My dad's answer: "I'm too old to know something about rookies"
Defensive Player of the Year: Tim Duncan
Timmy still got hops late in the season!
Some might say Roy Hibbert because Indiana is the best defensive team in the East. I disagree, the Pacers have a full roster with defensive minded players, that causes to inflate Hibbert's advanced defensive stats. Tim Duncan however in his billionth season, reached career best tying stats in limited minutes, while anchoring the Spurs to a number two spot in the Western Conference. Mr. Duncan is due for a Defensive Player of the Year award. It would be a scandal if Tyson Chandler and Marcus Camby had this award and Duncan wouldn't.
My dad's answer: Javale McGee (I guess for the lolz)

6th Man of the Year: J.R. Smith
With New York battling injuries all season, J.R. stepped up big coming off the bench. Still a bit reckless at times, Smith plays with a lot more demeanor when he's on the floor. He's more reliable in the clutch and his offensive talents have reached a high point in his career. He's able to make any shot at any moment. If Smith keeps up his play in the play-offs, the Knicks could provide a real test vs. Miami.
My dad's answer: "They give awards to bench players?"
Most Improved Player: Jrue Holiday
Jrue gave us a sneak peak at his abilities in last years play-offs. This season he elevated his game to All-Star level going from 13, 4 & 3 to 19, 8 & 4 while upping his FG% by 2 percent. Sadly, the improvement didn't translate to play-off succes.
Coach of the Year: George Karl
Yeah, that's Karl!
Running a collection of role players to the number three spot in the Western Conference, while enduring injuries to your key players. Kudos to the man who beat cancer!
My dad's answer: Coach Spo will get it, but George Karl deserves it.
_________________________
NICKELS 4 DIMES AWARDS
_________________________
Dunk of the Year: DeAndre on Knight
The dunk that exploded on Twitter. The dunk that started off a flurry of internet memes, Deandre wins this one even though Lebron tried to kill a certain Jason Terry too. The reaction by Brandon Knight on Twitter was hilarious too…
Assist of the Year: Goran Dragic
When the student becomes the master and when the master really likes it too…
The reaction by Nash afterwards says it all
Performance of the Year: Steph Curry
Stephen Curry is something we've never seen before. His ability to shoot it from the dribble is insane. He has 200 triples more than Ray Allen over their first 250 career games. He's on his way to shatter every shooting record in existence. It'll be the last time he'll get snubbed as an All-Star that's for sure!
Free Agent Signing of the Year: Chris Andersen
Since the signing of Birdman, the Heat have only lost three games.
The Lebron-Birdman pick'n roll has looked lethal.
Opposed to Joel Anthony, Andersen catches the ball
His conditioning is rapidly improving
He looks like a great chemistry guy in the locker room
Birdman-Mike Miller reality tv show should be epic
Potential championship celebration arm flapping should be epic too
PA-KAAH!
Drama of the Year: Kobe Bryant
The greatest player of my generation going down after giving it his all in his 17th season just to make the play-off was painfull to see. Kobe tearing up at the free throw line will probably be engraved in my memory forever. To show up after the game and still give an interview while his moral was broken is another testament to how strong this guy really is. It's hard not to tear up when you watch this interview…I've loved him, I've hated him but I will always respect him. Say what you want about him, he is the ultimate warrior.
Tweet of the Year: J.R. Smith
You could make the case for Brandon Knight's tweet after the Deandre Jordan dunk, but J.R. wins this by a landslide really. If you didn't know, Kris Humphries plays for Brooklyn and was married to Kim Kardashian for a really short stretch. The latest Kim K victim is Kanye West…
Flop of the Year: Battle of 'the Chris'
It's the undisputed champ Chris Paul with a floptart VS. the shameless Chris Bosh snipeshot. Tell me who wins…
VS.
Interview of the Year: Metta World Peace
World Peace on painkillers = epic interview
Best Trend: Chris Bosh
Every year there seems to be a trend in the NBA. Allen Iverson rocking the braids and the shooting sleeve way back, Dancing the Dougie, Rocking glasses without glasses and so on… This year, Chris Bosh started a trend by videobombing interviews and the entire world of basketball followed his lead.
Best Dressed as a Tirol-er: Russel Westbrook
"Huge shoutout for my Austrian-fans"
Seriously, wtf bro?
Troll Face Bonusmaterial
I already got Kobe on the Fashion Fail blogpost, time to get at Lebron!